Huck® Magna-Grip® (Huck® Bolt / MagnaGrip Huck bolt)
Product details for Magna-Grip® Huck bolts (Huck® Bolts) by Huck
Contact us online or call (866)748-3876 for ordering and shipping information on Huck® Magna-Grips (Huck® Bolts).
General Information for the Alcoa® Huck® Magna-Grip® (Huck® Bolt)

Grade 2 fastener that resists loosening. Widely known as the most reliable wide grip fastening system there is, the HUCK Magna-Grip fastener also provides vibration resistance and high uniform installed values.
Note: Magna-Grip® is a registered trademark of Alcoa and Alcoa Fastening Systems.
Huck Magna-Grip Tool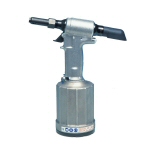 We recommend the Huck 2025 rivet tool for setting Huck Magna-Grips.