Huck® C6L® / C120L® (Huck® Bolts)
Product details for C6L® / C120L® Huck bolts (Huck® Bolts) by Huck
Contact us online or call (866)748-3876 for ordering and shipping information on Huck® C6Ls / C120Ls (Huck® Bolts).
General Information for the Alcoa® Huck® C6L® / C120L® (Huck® Bolts)

The classic 6-groove locking fastener built with staying power. C120L - 8.8 grade two-piece lockbolt fastener. A result of Huck® International innovation a half-century ago, the versatile Alcoa® Fastening Systems C6L® / C120L® Huck bolt remains the number one fastening system for applications that require a strong, vibration-resistant seal today.
C6L's / C120L's exclusive locking groove design ensures a permanent fit that resists loosening. That means it's ideal for applications from general manufacturing to such high-vibration applications as HVAC, trailer and container assembly, rotary and rotating equipment, shopping carts, railroad and transit cars, geodesic structures, and many others.
In addition to offering superior fastening performance, the C6L® / C120L® system reduces labor and installation costs, along with rework and warranty expenses. For example, using the C6L/C120L eliminates the need to hire certified welders or specially trained employees, because workers can be instructed to install these foolproof fasteners in a matter of minutes. The C6L/C120L is simply stronger, easier to install, and more durable than welding, adhesives, or conventional threaded fastening systems.
Designed for Consistent Installation, Easy Inspection
The C6L's / C120L's unique design virtually eliminates installation errors caused by operator or tool variables. The C6L/C120L ensures that once the collar swage is complete, the pintail breaks off and the fastener is tightly installed. No rework required. And you can count on consistent, high-uniform clamp force with every C6L/C120L installation, time after time.
A quick visual inspection, along with an occasional dimensional check, is all that's required to make sure the C6L® / C120L® is installed accurately.
Strong Support
Alcoa® Fastening Systems' skilled and knowledgeable technicians - your Huck® System Specialists - are ready and waiting with valuable consultation, evaluation, installation assistance, and in-depth staff training capabilities. No other fasteningn company can match this level of premium, value-added support.
Note: C6L®/C120L®/C150L® is a registered trademark of Alcoa and Alcoa Fastening Systems.
Huck C6L / 120L Tool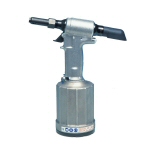 We recommend the Huck 2025 rivet gun for setting Huck C6L / 120L pins and collars.