Huck® Hucktainer® (Encapsulated Huck® Bolt)
Product details for Hucktainer® (Encapsulated) Huck bolts (Huck® Bolts) by Huck
Contact us online or call (866)748-3876 for ordering and shipping information on Huck® Hucktainer®s (Encapsulated Huck® Bolt).
General Information for the Alcoa® Huck® Hucktainer® (Encapsulated)

Two-piece fastener specifically for joining composite board to metal frame. Does not crush or damage composite board. Wide grip range. Low profile, gives neat tamper-proof finish. Plastic encapsulated head reduces corrosion - a variety of colours available.
Note: Hucktainer® is a registered trademark of Alcoa and Alcoa Fastening Systems.
Huck Hucktainer Tool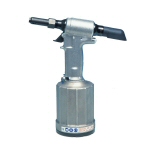 We recommend the Huck 2025 for setting Huck Hucktainers.